Agronomist Sophie Schulz is proud to be leading the Elders Mount Gambier agronomy team, putting her local upbringing and experience to good use in the rich and diverse farming region of SA's south east.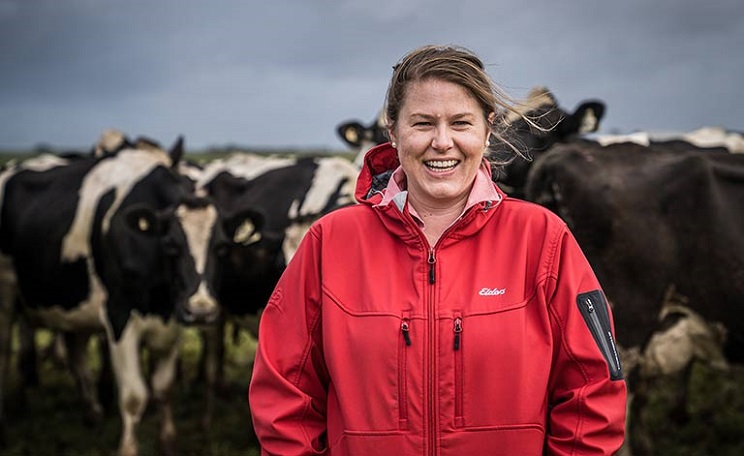 For Sophie, good agronomy service isn't just about improving productivity but being a friendly face and a trusted advisor to positively affect a farm system in the long-term.

Sophie's stomping ground is not far down the road from where she grew up on a mixed cropping and livestock farm at Hatherleigh, dreaming of being an agronomist one day.
"I'm not sure I knew what that was at the time, just that you got to drive around, look at paddocks and talk to farmers," she said.
Her career has come a long way since, with a degree in Agricultural Science from The University of Adelaide and a decade of experience in cropping and pasture agronomy both across the border in Victoria's western districts and now, back closer to home in south east South Australia.
Sophie described Mount Gambier as one of those rare parts of Australia where the growing season can span 12 months thanks to good rainfall through autumn, winter and spring and underground water reserves for summer irrigation.
Along with broadacre winter crops, there are pastures supporting dairy, sheep and beef and a growing number of farmers are turning to potatoes for diversity and higher gross margin returns.
"It is what you would call a very safe area for farming, but with that comes high land prices, so there's that need to make it more productive, increase the stocking rate and get the best returns you can out of it," Sophie said.
Not surprisingly, the agronomy team at Mount Gambier is busy all year round, setting up seasonal plans with farmers, overseeing the establishment of crops and pastures, monitoring growth and, where possible, taking a proactive approach to emerging problems.
On farm visits are a key part of their service and gives them a chance to work closely with clients to deal with challenges and work on improvements.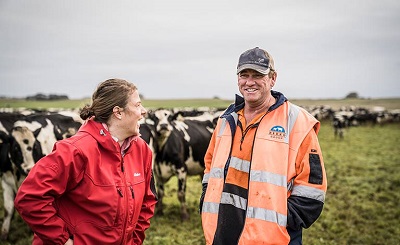 Sophie shares a laugh with client
"I really enjoy the practical side of my job," she said. "I get to spend a lot of time on farm with like-minded people and I get to work with the clients to come up with different solutions and trial new things."
"It can be quite rewarding. There's nothing better than seeing one of your clients who has topped the market for fat lambs and knowing you've indirectly helped them achieve that."
Sophie joined Elders two years ago and hasn't looked back.
"I started in a maternity role position, and then went to full time agronomist and then to Senior Agronomist managing a team of four other agronomists," she said.
"I am really proud of what Elders stands for and the support they give their people."
"The fact that they are an Australian owned business means a lot, but it's also the support we have for the community through initiatives such as the partnership with Royal Flying Doctor service."
The future of pasture management
It was in Sophie's early working life that she built her detailed understanding and knowledge in pasture agronomy, working with clients on a paddock by paddock basis to improve returns.
She continues to work in pasture agronomy, helping her local grazier clients as they increasingly move to more intensive systems with the aim of maximising productivity and profitability.
"The next generation of farmers are starting to look at extra inputs through the winter months to close the feed gap and have more grass growth from the autumn break right through to the end of the season," she said.
"Instead of buying more land, they are turning to us for help to make the area they've got more profitable.
Sophie Schulz, Elders agronomist, Mount Gambier.
"I like the challenge of it. Nine times out of ten there's a reason why a paddock isn't performing and if you dig a little deeper and you normally come up with an answer."
But being a top agronomist isn't all about knowledge and experience. Sophie may have been partly right, when as a child, she imagined being an agronomist was just driving around talking to farmers. Building relationships with her clients is one of her strengths.
"You've got to have a connection with your clients, or it just doesn't work. I've grown up talking to farmers and I'm comfortable to just have a chat with my clients about the local footy club or the kids – it's not just business all the time."
She says that taking care with inputs like chemicals and fertilisers to ensure they are used sustainably is of growing importance for long-term success.
"A lot of the farms down here are high input and are intense in their systems," she said.
"We have to be really aware of how we use chemicals and fertilisers going forward because we want to be able to keep them in our system.
"It's about doing your due diligence when you recommend and sell a product and thinking about whether it is the best thing for right now and the best thing for the future."