Market fundamentals

National trade lamb prices increased by just over 7 per cent (pc) in October on average. At a state level there was support in Queensland, with prices increasing by over 40 pc compared to the previous month. Other states also rallied, with prices up between 4.7 and 9.1 pc. The national trade lamb indicator remains 39.1 pc lower year on year.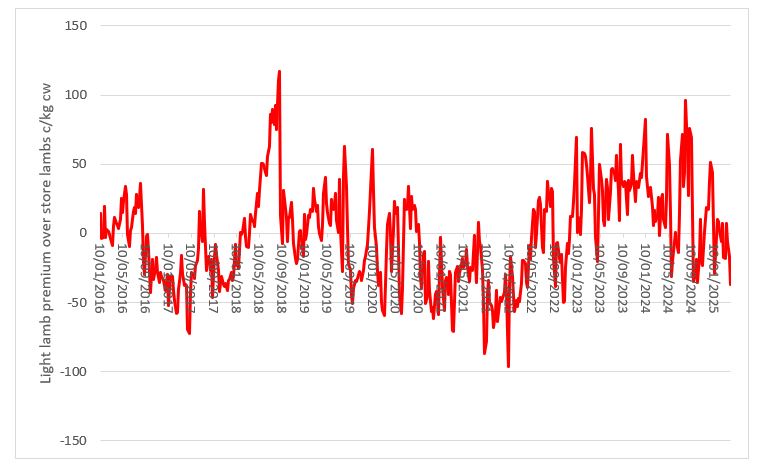 National trade lamb prices have increased this month.
National mutton prices eased by 19.1 pc in September, equating to 78.2 pc lower year on year. At state level, prices were mixed with South Australia recording a slight increase by 9.1 pc while Western Australia and Victoria recorded significant falls. 
National mutton prices eased slightly.
Read on for local conditions and commentary from Elders Livestock Managers. For more livestock market analysis, visit our new Livestock Now page.
From the field
"In the far west of the state, most killable lambs and mutton have now been marketed. Any remaining lighter weight lambs have been shorn to run through stubbles, or get more weight to be more attractive to the store buyers that may be on the hunt for lambs post-harvest.
"The northwest pastoral district continues to maintain numbers off the backend of a couple of good seasons, and whilst the feed has dried off significantly, in most cases there will be adequate feed and water to get through the summer/autumn shearing season which fires up in January.
"The northeast pastoral district is getting towards the backend of the spring shearing season and store sell-offs, with wether lambs and some breeding ewes still to market in the coming weeks.
"Mutton sales are drawing to an end, with prices generally in the $0.80 to $1.20 per kg carcase weight range, dependent on timing of marketing and weights obtained.
"Clients across the north and west of the state are generally "sitting on their hands" when it comes to buying in and finishing store lambs. The lack of forward pricing from processors is having the main impact on this given the lamb market's uncertainty over recent months.
"That being said, there seem to be some great buying opportunities out there at the moment, be it lambs or mutton with buy price being anywhere from 30 to 50 per cent off that of recent years.
"Having talked to various processors it appears likely that some forward pricing for lambs will become available for the new year, with indications of pricing above that of the current market."
Damien Webb, Elders Livestock Manager, northern South Australia.
"With the traditional sell off of the sucker lamb draft in swing through the mid South East, we are seeing some very well-finished second cross lambs coming forward for sale in a market that is rewarding quality and weight.
"Best heavy and trade weight suckers are realising from 500 to 540 cents per kg carcase weight with lesser killable lambs from 450 to 500 cents. Restockers are remaining cautious without any firm commitment to forward pricing for lamb into the new year and are in the market at prices from $35 to $80.
"The mutton market continues to be subdued with most mutton priced from 80 to 130 cents per kg carcase weight, which in turn has a direct correlation back to returns for breeding ewes which have dropped, reflecting returns producers have received for their lamb and mutton sale combination. Most young Merino ewes have found a new home from $80 to $140 with the exceptional lines of quality ewes selling to a high of $202 at Lameroo Off Shears and $200 at Keith Off Shears respectively. Lighter and immature young ewes have sold from $40 and mature breeding ewes are generally $5 to $10 dearer than their slaughter counterparts.
"Merino wether lambs look like very opportune prospects with limited interest on small immature lambs that are priced from $15 to $30 with better types sought by graziers up to $50  while the more mature and weighted lambs realising between $70 to 90 to the trade. With shorn lambs appearing on the market it is obvious the premiums that graziers are prepared to offer when the work and cost of shearing has been done."
Laryn Gogel, Elders Livestock Manager, southern South Australia.
"Sheep have been very much of a concern with the southern half of the state moving early and quickly on destocking, with lighter secondary sheep having very little value. 
"The lamb market has been steady with most new and old season lambs trading at similar rates to the mainland."
Gavin Coombe, State Livestock Manager, Tasmania.
"We have just come through our ram selling season, we have conducted 87 ram sales in a 13 week period. Though the clearance rate is marginally down on last year, overall the results have been encouraging and pleasing.
"Demand for live export sheep is also ramping up, from now and towards Christmas with the imminent entry into the Saudi market."
Dean Hubbard, State Livestock Manager, Western Australia.
Table contains lamb and mutton price comparisons.
Note: States without sufficient data for the current month or without data for a specific stock category will not appear in the table.
Sources: Price data reproduced courtesy of Meat & Livestock Australia Limited.
The information contained in this article is given for the purpose of providing general information only, and while Elders has exercised reasonable care, skill and diligence in its preparation, many factors (including environmental and seasonal) can impact its accuracy and currency. Accordingly, the information should not be relied upon under any circumstances and Elders assumes no liability for any loss consequently suffered. If you would like to speak to someone for tailored advice relating to any of the matters referred to in this article, please contact Elders.