Harvest is in full swing across nearly all of Australia, due to continuing dry conditions across the country. This is despite some patches of late rainfall, particularly across NSW, which is causing some growers to have to dodge stormy weather on the header. For more detailed forecasts in your region, visit Elders Weather.
The dollar has strengthened in the last week, which has caused the majority of markets to soften slightly. That being said, there are still good premiums available for certain commodities and grades, with plenty of interest from buyers on the Clear Grain Exchange (CGX) and igrain platforms in the last week.
Read on for more on local conditions from our Technical Services Managers and catch up on the latest grain price movements from CGX.
---
From the field

Western Australia
"Harvest has come on quickly in all regions of Western Australia. A combination of a very dry growing season and a hot dry finish to the season has sped up the maturing of crops.
"Frost has had a larger effect on crops than many realised. This, combined with terminal drought, has led to some lower yields that initially expected.
"Thoughts are now around what will eventuate with summer rainfall events. These tend to be random but have the potential to set the tone as we move through harvest and into the hotter parts of summer. Growers are aware of the potential these events can bring, and they are prepared to ensure that this moisture is preserved for next year's crop, so the control of any summer weeds will be of high priority.
"Many growers are still holding back on cropping decisions for next year. With market volatility and risk in crop production, the urgency for planning is not there. This is reflecting in purchasing decisions for inputs for next year's crop.
"For grain growers in WA, it will be an early finish to the season. Thoughts will shortly move on to what lies ahead for 2024." 
Bill Moore, Elders Technical Services Manager, Western Australia.

New South Wales
"There is a positive feeling across many regions in NSW after receiving good rainfall in areas which have not received rain for some time. The rain was received on the back of widespread storms with high amounts recorded in isolated bands. These events have created a few challenges, but also some great opportunities working towards 2024.
"As harvest is well underway, many areas have headers dodging stormy weather with windrowed canola taking longer to dry down and late season wheat yet to come off. Reports out of the paddocks seem to indicate average to above average yields in many areas, which is great to hear, based on a tough and variable season.
"Canola and wheat paddocks continue to be cut for hay or silage after two significant late season frost events occurred across areas of NSW.

"Late canola varieties are experiencing higher than expected populations of Heliothis (Native Budworm) in many regions, which is causing some concerns with yield at the present, with pod damage having been witnessed.
"Sorghum plantings remain behind previous years based on dry conditions up to this point, but recent and predicted rainfall will drive later plantings.
"Cotton has had a rough start with cooler temperatures, insect activity and heavy rainfall events on the back of irrigation. There has been a lot of cold shock days recorded which is unusual for this time of the season. This, combined with high thrip numbers being experienced across many areas as the winter cereals are harvested, is causing significant leaf damage. On the bright side, some areas have good establishment and health crops emerging.
"These rainfall events will germinate a lot of summer weeds, but provide the growers with an opportunity to carry out fallow weed control to reduce overall weed seeds per hectare.
"In the forage and pasture space, it has been a very delayed start, but a lot of areas are now looking to sow summer options such as millets, sorghums and summer legumes to fill the current feed deficit on the back of low rainfall."  
Adam Little, Elders Technical Services Manager, New South Wales.
---
Growers managing grain sales during harvest 
Nathan Cattle, Managing Director for Clear Grain Exchange shares his thoughts on the current grain market and what's been happening on the exchange.
28 buyers bought grain offered for sale on Clear Grain Exchange last week, with more searching as buyers maintain strong interest in Australian grains.
Growers appear more comfortable offering their grain for sale at a price as the harvest progresses rather than chasing bids. Many growers that are harvesting, or close to harvesting, are offering grain at a price and nominating a future delivery period that suits them.
For example, some growers are offering grain for Nov/Dec delivery so they can easily show the market their sell price and get some price protection in place, whilst continuing to focus on the harvest knowing they can transfer the most suitable loads when they have more grain in the bin and more time on their hands!
Australian grain remains competitive into international markets out of the southern states and export pipelines are comprehensively booked which means there is strong buyer appetite for grain.
Food grades such as higher protein milling wheats and malt barley are trading at premiums to the lower grades which is typical for this time of year as millers and maltsters engage to ensure they have the right quality for their assets.
Prices between port zones for similar grades remain wide in some cases. Northeastern Australia will continue to trade at higher prices given the grain deficit there and the need to draw grain in. However, some of the export orientated states also have large price variances which may be a reflection of how grain is being sold.
If growers sell into advertised cash bids it will weigh on prices. Growers have a say in the price of their grain, they can offer it for sale at a price to the market.
Premiums for food grades and discounts for lower grades, are typically widest sometime between harvest and early in the new year.
This implies that when deciding what grades to sell during harvest versus what grades to hold, the result that will give the best average price across your crop is to engage the market on the grades attracting strong premiums and hold the grades being discounted.
Last week H1 traded $460/t in Kwinana versus ASW1 trading at $400/t on Clear Grain Exchange as examples.
In Newcastle, where the fight for grain is stronger between food and feed users given the shortage of grain, spreads are narrower but exist just the same with H2 wheat trading $434/t track port compared with ASW1 trading $419/t.
Buyers have also been searching for grain offered ex-farm with growers listing grain for sale on the igrain market selling wheat, barley, lupins, peas, faba beans, maize and oats through Qld, NSW, Vic and SA.
Login to your CGX or igrain accounts to see more price information and offer your grain for sale to all buyers in a secure market. Visit igrain for more information.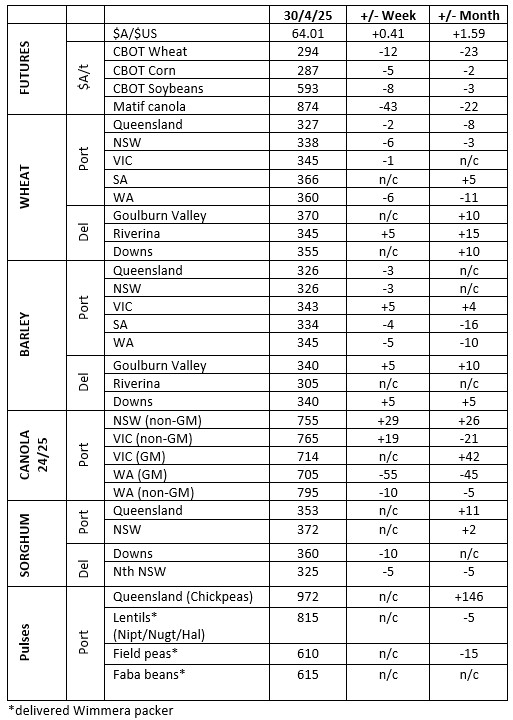 28 buyer businesses purchased grain through Clear Grain Exchange (CGX) last week. Australian grain remains competitive internationally and so continues to attract plenty of buyers. When looking to sell grain, ensure you offer it for sale rather than selling into published bids.
Table shows best published bids and actual traded grain prices from Clear Grain Exchange. Sources: Clear Grain Exchange
 Want to control the selling price of your grain?
Clear Grain Exchange (CGX) is a secure and independent online exchange that allows you to set a price for your grain and market to all buyers.
It's free to register and offer your grain at your price, pay nothing until your grain is sold.
To register or find our more contact click here or call 1800 000 410
"The best thing about CGX is you set your own price. I sell wheat and barley through CGX and usually achieve above the market value as advertised in the current market"
Jeff Burgess, grain grower, South Australia
Learn more about Jeff's experience with Clear Grain Exchange.
The information contained in this article is given for the purpose of providing general information only, and while Elders has exercised reasonable care, skill and diligence in its preparation, many factors (including environmental and seasonal) can impact its accuracy and currency. Accordingly, the information should not be relied upon under any circumstances and Elders assumes no liability for any loss consequently suffered. If you would like to speak to someone for tailored advice relating to any of the matters referred to in this article, please contact Elders.