Based out of Elders Bathurst in New South Wales, livestock agent Jesse Gauci is the first member of his family to work in agriculture.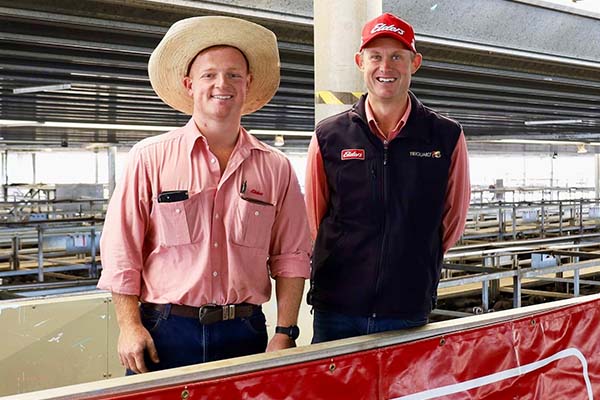 Jesse (left) at a sale alongside Bathurst Branch Manager Andrew Bickford.
Jesse has been working with Elders since 2017, when he was selected for the Elders Livestock Traineeship Program. Once that concluded, he was placed straight into a role in Elders' Bathurst branch, close to home.
Jesse describes Bathurst as fast-growing, friendly and complete with a thriving livestock sector, making his role busy and varied.
Despite this, Jesse explained that joining the agricultural industry was a bit of a first for his family. 
"No one in my family really works in agriculture, actually almost all of my family are in building," he said.
"I am certainly the one leading the agriculture side in my family."
But now, six years on, Jesse wouldn't have it any other way. His days are spent working alongside his clients, representing their sheep and cattle and helping them optimise their livestock operations. 
"I spend my time at plenty of paddock sales through the week, our local sheep and cattle sales are on Tuesdays and Wednesdays, and we also have a store sale once a month," Jesse said.
"I just love standing above clients' livestock, representing them and hopefully getting the best possible result at auction.
"They have taken six to eight months to grow the animal, and I only have 60 seconds to represent all that hard work."
Selling and auctioneering is just one part of Jesse's role. He is also kept busy as an accredited AuctionsPlus assessor, and by supporting his clients with tailored advice. 
"Between all of those sales, I also spend time assessing livestock for AuctionsPlus and doing odd jobs like weighing lambs for processing jobs," he said.
"I make sure that my clients are kept up to date with the latest market reports, tailored and localised information; anything they need to make their job easier. It all depends on what they have and what they want to buy or sell, but I can help with those decisions too.
"I love building strong relationships with my clients, professionally, but also making some good friends along the way."