Billy Hall cut his teeth at the biggest selling centre in Australia, and has now moved on to the Elders branch at Wandoan, where he is tackling his next challenge.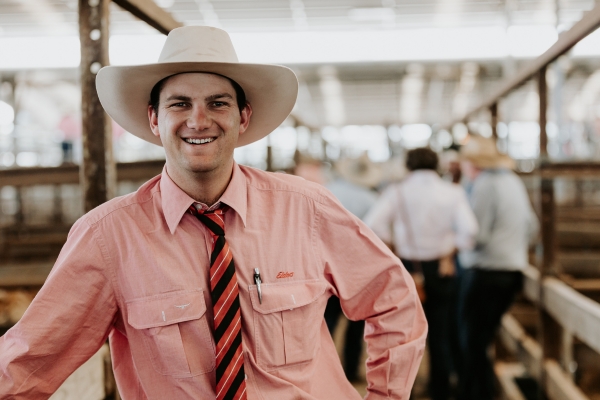 In his fourth year with Elders, Billy Hall is a territory sales manager based at Wandoan on the Western Downs in Queensland.
Until recently, Billy was based in Roma, where he gained most of his experience, working closely alongside his clients and auctioneering weekly at the biggest selling centre in Australia.
Billy describes auctioneering as one of his main passions, but said the Roma saleyards are uniquely challenging.
"Roma can definitely be quite daunting, there are plenty of buyers and the lanes are nearly always full," he said.
"It's pretty cutthroat, but regardless, I still get a thrill out of it.
"I love standing up in front of everyone and feeling the nervous energy. It's just the best feeling when you finish for the day, and know you have done your best for your clients."
Earlier this year, Billy represented Elders at the ALPA auctioneer training school in Rockhampton, to further finesse his skills. From there, he appeared as a finalist in Queensland's ALPA Young Auctioneer competition for the first time.
"It was a tight competition, but a great way to bring your skills to the next level," Billy said.
He entered the competition with encouragement from Roma branch manager Keith Crouch, who says both education and industry competition are significant parts of the journey for young agents.
"Over the past few years I have enjoyed seeing Billy improve his auctioneering skills both from skills he has learnt at the school, practicing each week at the Roma sale and with his own training," Keith said.
"Given the time he puts in, both at the weekly sales here in Roma and also for his clients every day of the week; it was no surprise to us that he has made it through as a finalist."
Billy's latest challenge is his move west, to Wandoan, where he is currently the sole agent. Though geographically he might be on his own, Billy said this is made easier through the strength of the Elders network.
"Pulling the pink shirt on everyday really makes me feel like I'm part of a team," he said.
"There are plenty of pathways at Elders, and the support from my co-workers and mentors has been second to none.
"Knowing I have that team behind me, and we are all working towards the same goal – to do our best for our clients – is inspiring and something that definitely drives me."