From kicking off his career with an Elders Livestock Traineeship, to taking out the top spot at the National ALPA Young Auctioneer competition.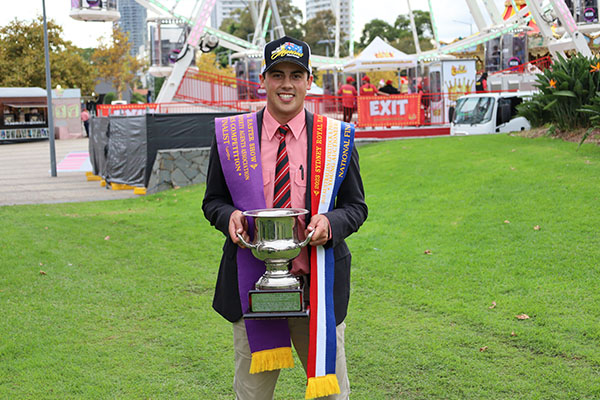 Harry at the 2023 Sydney Royal Easter Show.
Based out of Elders Gundagai in New South Wales, Harry Waters always knew he wanted to work as a stock agent.
"I have been around the stock agency game ever since I can remember," he said.
"My dad is a stock agent in Cowra, where I grew up, and I have been going to the saleyards ever since I could walk."
When the time came, Harry applied for the Elders Livestock Traineeship Program. This program is designed to help launch careers in the livestock industry, furthering learning about livestock sales and marketing, as well as production and animal health.
"As a trainee, I really got to know and learn the basics of being a stock agent," Harry said.
"You get to see and work with a lot of successful agents within Elders, which sets you up well.
"The biggest benefit of the traineeship was the people I worked with. We still talk on a regular basis, and I came away with a few really good mates."
Now, as a Territory Sales Manager with Elders Gundagai, Harry provides livestock sales advice to his clients, identifies sales opportunities and brings buyers and sellers together. He also enjoys auctioneering at livestock sales.
"I knew once I started with Elders that I wanted to give auctioneering a go," he said.
"The first decent selling I did, I sold some cattle down at Bairnsdale, and instantly loved it. Even though I still get nervous every time I sell, I just love doing it."
Before long, Harry began attending ALPA auctioneering schools to refine his skills, and entered ALPA's Young Auctioneer competitions. Last month, Harry travelled to Sydney to compete in the 2023 ALPA National Young Auctioneers Competition, and came away with the victory. This caps off a fantastic two years at the Sydney Royal Easter Show for Harry, who last year took out the ALPA NSW Young Auctioneer Final.
Of his victory, Harry said "it's a bit of a feather in my cap, something to look back on and be proud of."
"But I am looking forward to getting back to my day-to-day with clients, and doing the hours in the saleyards."
As National Champion, Harry has been given the opportunity to travel to the Calgary Stampede later in the year to represent Australia.
"It's all pretty different over there, so it would be great to get over there and experience how they do things on that side of the world," Harry said.