The inaugural Elders WA Elite Horse Sale took place last weekend in Coolup, Western Australia, drawing in crowds from across the country.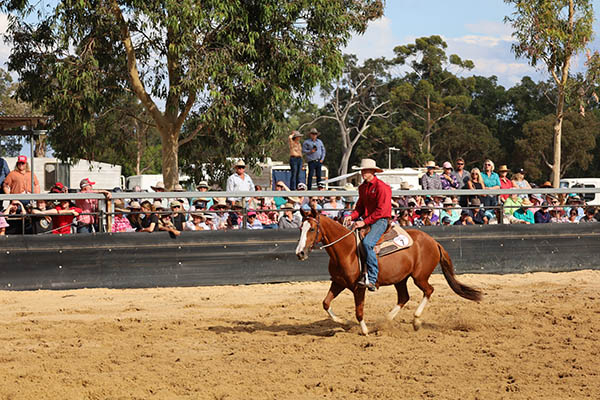 Little Miss Tilly presented by Jim Daley in front of a packed crowd sold to Jubilee Downs for $32,000.
The sale was held at the Murray Regional Equestrian Centre, where a great selection of premium horses, bred from highly reputable equine studs, were set to be sold.
27 outstanding horses were presented at the sale, all suited to mustering, camp drafting and stock work. 24 of the 27 lots were sold, at a sale average of $20,417.
The top price and second top price horses were both sold by vendors Chris and Sally Towne of Townes Trading Pty Ltd, at the respective prices of $52,000 and $47,500. 
Elders Albany Auctioneer Wayne Mitchell said that it was overall an excellent sale for both vendors and buyers.
"The horses were very good and made the money they deserved to make," he said.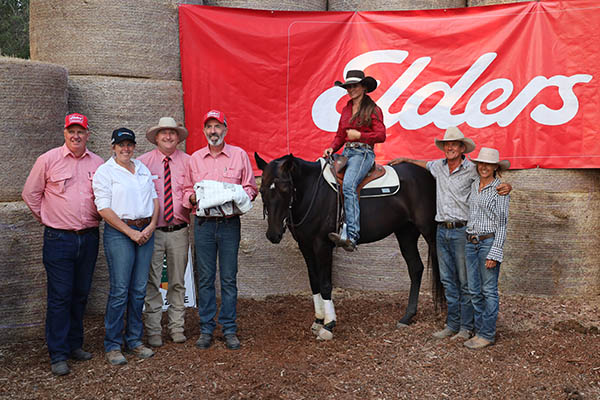 Second top price mare Townes Liberty was presented by Chloe Towne and sold to an Elders Muchea account holder for $47,500. (L-R) Michael Longford (Elders Commercial Cattle Manager), Kim Ellis (Elite Livestock Auctions), Wade Krawczyk (Elders TSM and Event Coordinator), Dean Hubbard (Elders State Livestock & Wool Manager), Chloe, Chris & Sally Towne of Townes Trading Pty Ltd.
"People are going home with good horses, and vendors are going home with good prices. It's been a great day."
The weekend also coincided with a Campdraft competition for open, junior and juvenile riders, along with a super goal polocrosse event featuring state and national representatives. Winning the open Campdraft event was Michael Percy, who travelled from Pannawonica in the Pilbara region to compete.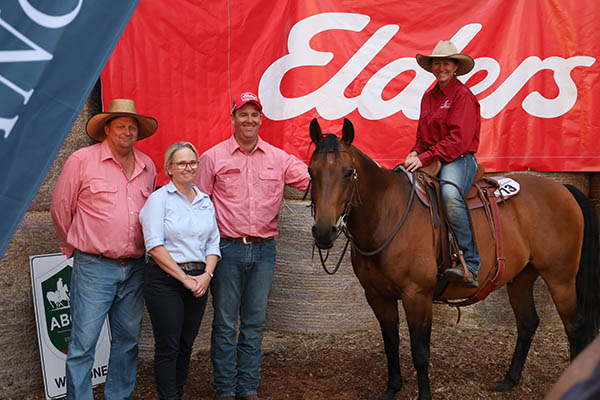 L-R Clint Fletcher (Elders TSM Moora/East Pilbara), Rebecca Maddern (RFDS) and Nick Benson (Elders TSM Hopetoun) stand alongside top price gelding TMQ Armani presented by Bianca Graham which sold for $33,000.
While the sale and competitions showcased an elite calibre of horses, the weekend also brought together the equine community, and supported rural West Australians in the process.
The sale proudly supported the Royal Flying Doctor Service (RFDS) and Dolly's Dream, both charities close to the hearts of West Australians.
Elders Waroona Territory Sales Manager Wade Krawczyk had a large part to play in coordinating the event, and explained that a key objective was to raise awareness and funds for these causes.
"It has been an overwhelming experience to see the outcome of the sale and the event, and it's been really exciting to see the awareness and valuable funds raised for our charities, RFDS and Dolly's Dream," he said.
Wade went on to say that the event supporting Dolly's Dream has a particularly personal tie.
"My daughter has been affected by school bullying both online, and at school. Dolly's Dream support services have really enabled us to get through the last two years.
"To be able to hand over a $7500 cheque to both of these charities is a really great achievement and something we are all very proud of.
"Based on how it went, I think the event will continue to be on the Elders calendar and also the equine calendar for many years to come."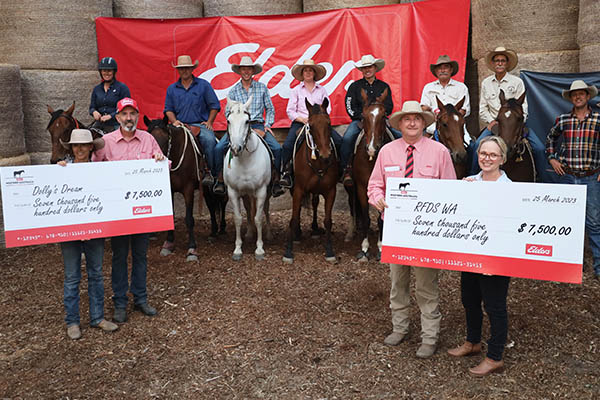 Sally Towne representing Dolly's Dream and Rebecca Maddern representing RFDS were presented with combined fundraising efforts of $15,000 from Dean Hubbard (Elders WA State Livestock & Wool Manager) and Wade Krawczyk (Elders Territory Sales Manager Waroona).
For the full sale results and to find out more about the event, check out the Elders WA Elite Horse Sale Facebook page.