The 2023 sale was held at the coveted CQLX selling ring last week in Rockhampton, bringing crowds from all over the north for the opportunity to pick up some of the best Droughtmaster bulls in the country.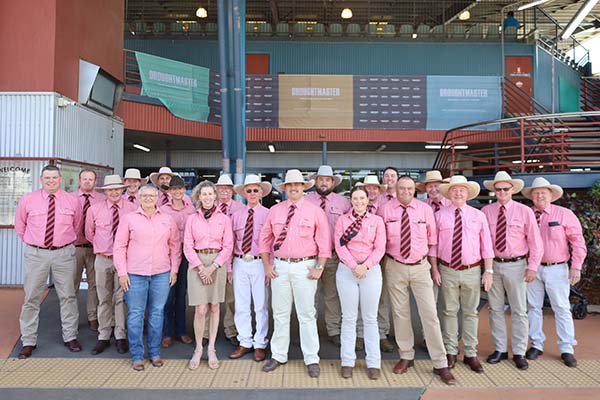 Elders team out in force in Rockhampton this week for the National Droughtmaster Sale.
It was a "teamwork makes the dream work" moment for Elders, as the team came together this week to once again deliver top results for cattle clients.  
The final results from the sale have been published with the sale grossing $3,813,000, a clearance of 78 per cent and an overall average of $11,020.  
However, the real heroes were the team in the pink shirts, whose results exceeded expectations and the overall sale averages. Elders grossed $1,484,500, with a clearance of 90 per cent and average of $14,274. The top price bull was Lot 275, a mighty bull from first time vendors at the sale, Elders client Seymour Droughtmaster Stud, selling to buyers Yaralla & Needmor Studs in partnership for $140,000. 
These results speak for themselves, and demonstrate the Elders stud stock and commercial livestock teams' commitment to achieving the best results for their clients every time. 
Anthony Ball from Elders QLD/NT stud stock team said it is always a thrill to have so much confidence from clients with their bull sales. 
"Once again, it was a privilege to have our clients new and old entrust Elders with the sale of their stud cattle," he said.  
"We sold the top priced bull and second top priced bull of the sale. Our commercial network really demonstrated our strength in the market, and off the back of that commercial strength from numerous areas in QLD, it really allowed us to achieve those excellent results for our clients. 
"With tough conditions, and the current market, it was a fantastic display from the Elders network to achieve what we did." 
Commenting on the preparation from the team, Anthony said, "leading up to all sales, there is a lot of communication on the phone with the various branches and between the Elders stud stock and commercial livestock teams." 
"When you get results like this, it is never one person, but the company as a whole to thank. Everyone in the Elders team is important and everyone plays their small part. It is the small parts as a team that play a huge role in the results as a company.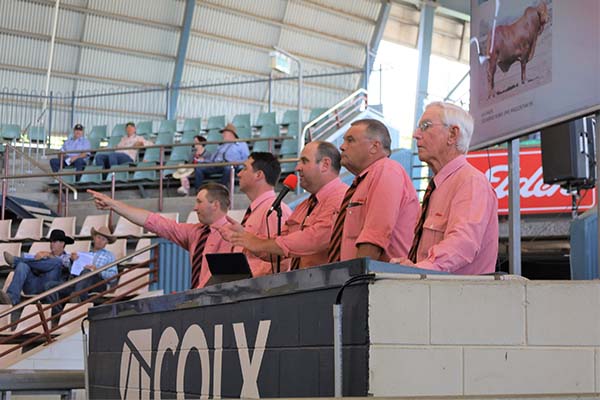 Elders Stud Stock auctioneer, Anthony Ball, in action at the sale.
Morty Wilson from Elders Rockhampton has been with Elders for five years and is always impressed with the teamwork of the Elders network across the north. 
"At the Droughtmaster sale in particular the commercial network all came together with buying support, and this was certainly shown in the results in the Elders section of the catalogue," he said. 
"We all stepped in to support each other and the Elders clients. 
"A lot of people from Elders came a long way to support the team and their clients, and their clients took home some good value bulls."