Through our investment in Clear Grain Exchange (CGX), Elders is pleased to offer growers an opportunity to be in complete control of their grain marketing and sales, on a safe, secure, and independent grain exchange.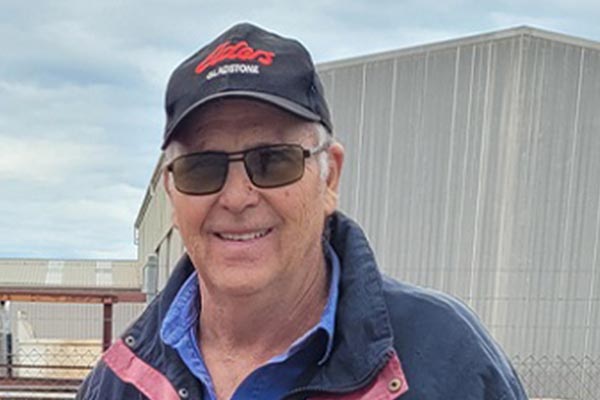 Matt Gulin, Branch Manager at Elders Jamestown, pictured with grain grower and CGX user Jeff Burgess of Gulnare.
With CGX, growers can:

offer their grain for sale at the price they want, to all buyers
enjoy payment security, as they retain title of their grain until payment is made
receive proceeds within seven business days of selling their grain
delay receipt of sale proceeds to a time that suits their business
CGX is easy to use, plus it's free to register and offer grain at any time.
Grain grower and CGX user Jeff Burgess of Gulnare, South Australia explains, "the best thing about CGX is you set your own price. I sell wheat and barley through CGX and usually achieve above the market value as advertised in the current market".
Listing online is easy and the CGX team is available over phone to help at any time.
Jeff notes that CGX customer service is what ensures the process is quick and easy.
"The team are fantastic. I just ring up and they do the listings for me. We review any outstanding offers about once a week." 
This harvest there are even more options for growers to manage their listings, including the Lapsed Offers feature on the My Grain page, which lets you quickly and easily re-list expired offers.
Grain trading on CGX is consistently above the best prices advertised by merchants. This is because when you offer grain for sale on CGX all buyers can see it and try to buy it.
Often there are many more buyers than you may realise that want to try and buy your grain, we just need to make it easier for them to do so.
Over the past season 96 different buyers have purchased grain through CGX with more searching for grain offered for sale – see below number of buyers by state.
WA – 42
SA – 28
VIC – 54
NSW – 63
QLD – 20
Let's get as many buyers as possible trying to buy your grain while making sure you're protected at all times with anonymity and secure settlement!
---
Why CGX?
Value – growers set the price for their grain. Create your price rather than accepting a price.
Independence – CGX is not a buyer, seller, or agent. CGX operates an independent exchange.
Security – growers retain title of grain until they are paid (within 7 business days of a transaction).
CGX is easy to use, easy to offer, easy to trade.
At CGX we aim to improve farm gate returns by creating a more efficient. Our independence is vitally important to ensure the market operates efficiently, without bias, to encourage more buyers to try and buy Australian grain.
We're not a buyer, seller or advisor of grain. We're a technology business that operates an independent and secure exchange.